Gentle River is just beginning to hit buyer's hands, and some in box pics were spotted on eBay. I thought it would be fun to show you some pictures from when we were working on the box art – it was one of my favorite aspects of the project.
CWC offered us the chance to draw some box art concepts, and if they liked what we pitched, they'd let us do the final art. We all jumped at the opportunity. I had never done packaging design before but had studies it in school and was particularly excited to finally put my education to some use (wink wink). We wanted to really "wow" the ladies at CWC, so we made a couple of 3-D mockups and crossed our fingers.
Our design got the green light! Some changes had to be made – the box had to be much larger to fit all of GR's many accessories (yay), and the front flap would be eliminated to reduce cost. We modified our design and made a cardboard mockup just to make sure the protortions looked right (things look so different on a monitor and in real life. )
To really push the illusion that River is standing in a deep forest, we put shadowy trees and critters on the inside of the box. She has so many baggies in her box though, that they will probably rarely be seen!
A modified version of this design will also be used on the teeny Lemon butter box – we'll be sharing our Lemon butter designs when she's on the market.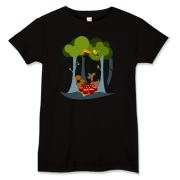 …and don't forget your matching shirt!